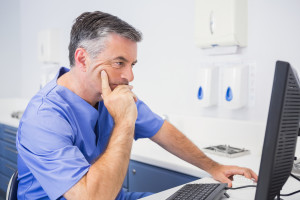 There are three basic roads a dentist can take to retirement:
Sell their practice,
Find associates, OR
Reduce office hours and production until they end up closing shop.
One option dentists don't have is to cross their fingers and hope for the best. It is essential to be proactive and start planning for retirement a minimum of five to 10 years ahead to fully maximize the value of your practice!
Transitioning the practice is a process full of many variables, but dentists nearing retirement age can make this process easier by focusing on one key area of the business ahead of time: Branding.
What's in a name?
While it may seem logical to leave the rebranding process up to your successor so he or she can do whatever s/he wants with the practice name after taking it over, this is a flawed approach. In this scenario, a potential successor will see no value in purchasing YOUR practice over any other. You need to figure out how to maximize the value of your practice and develop a transferable asset that has a positive, recognizable identity within the community.
Imagine the fictional Dr. Rob Roberts, who is 30 years old and is looking to buy a practice. There are two practices up for sale in town with nearly identical locations, patient bases and facilities.
Practice A is named Dave Davis DDS after the long-time dentist/owner. The practice's website URL is drdavisdds.com and its signage and business cards all reflect the retiring doctor's name. The practice's Facebook page and other social media profiles, as well as all of its overwhelmingly positive online reviews, are also all listed under Dr. Davis' name and worthless to the young dentist, as a result.
Dr. Roberts knows if he is to buy Practice A, the cost of a new logo, internal and external signage, a new practice website and printed materials like business cards and letterhead alone will easily rise into the mid-five figures. Add to that the cost, including the time and energy, of rebranding the practice, building a new website and starting the practice's social media and online review profiles from scratch and putting the necessary marketing infrastructure into place for this practice starts to feel like a part-time job the new dentist won't have time for.
Practice B, on the other hand, was rebranded several years ago as Harmony Dental Care. Its website needs a simple update to the doctor's photo and bio page to be perfectly good for Dr. Roberts' immediate needs. The practice effectively has all of the necessary marketing assets already established in an easily transferable brand, and it's easy to imagine how much more attractive Practice B appears to Dr. Roberts as a result.
As the scenario illustrates, a potential successor must be able to see themselves benefitting professionally and financially from purchasing your practice. Plan ahead in order to develop a transferable asset that has a positive, recognizable identity within the community. Investing in branding your practice appropriately now will pay off in dividends upon retirement.
For more information on branding and preparing for retirement, including must know tax implications for dentists, click here to read my latest Dental Products Report article co-written by industry expert J. Haden Werhan CPA/PFS.