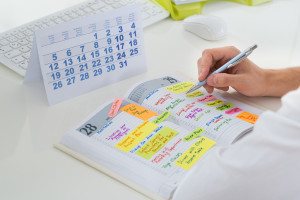 Last week I talked about the importance of using a social media calendar in your dental practice. Social media is a new marketing method to many dental practitioners, and taking the time to develop a strategic plan will help you to make the most of your efforts.
Now that you are aware of what a social media calendar is, and why it can be of benefit to your practice, here are 4 steps to building your own calendar:
Determine which sites to engage on, if you haven't already. Sites such as Facebook, Twitter, YouTube are 3 of the largest

social media sites today and would be among the best places to get started. Links to your practice's blog should also be included in the calendar. (If you are not sure what sites you should be on, click here for one of my past blog posts on how to determine what sites might work best for you.)

Decide how many times a week you will be posting. Generally, best practices indicate that posting to sites such as Facebook and Twitter up to 3 times per week is sufficient.
Create your social media calendar. I recommend using Excel (or any similar format) to map out the next 30 days, and include columns dedicated to each social media site on which you plan to be posting. Under each column heading, enter in whatever content you want to post each day. If you need ideas on the type of content to post, check out this previous blog post.
Implement your calendar. The doctor, nor the hygienist, should not be in charge of implementing the calendar. They are simply too busy to dedicate the time. Plus, this is a great way to get your team involved. If you have a team member who is proficient in social media, and who realistically has the time and will be diligent, assign them the responsibility of executing the social media calendar and posting the content as scheduled. However, if you do not have the staff available, you can employ a social media dashboard (sites such as Hootsuite.com or Tweetdeck.com) which will allow you to enter, or import, your posts all at once, and schedule each to publish in the future.
If you would like more in-depth information on creating your social media calendar, click here for my free webinar with Sesame Communications to learn step-by-step on how to implement one in your practice.
Do you use a social media calendar in your dental practice? What advice would you give to a fellow dentist just beginning to engage in social media? Please feel welcome to share your thoughts and experiences below.