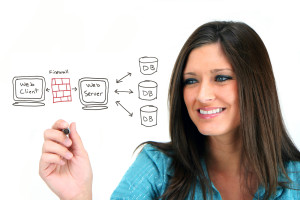 As dental practice owners, you not only fill the role of "Dentist", but several other roles (Accounting, HR, IT, Marketing) that you may not have planned on when you graduated from dental school. And in today's digital culture, jobs such as SEO Specialist or Social Media Manager may have not even existed just a few short years ago. Not that these roles are any less important, in fact they have to be done, and be done well, for the good of the practice. But when there doesn't seem to be enough hours in the day to successfully accomplish everything on the To-Do list, perhaps it is time to consider outsourcing.
Red Adair, the late American businessman, once said, "If you think it's expensive hiring a professional, wait till you hire an amateur."
There are countless, self-proclaimed "experts" ready to assist dentists with their SEO, website design, social media marketing…all with varying degrees of costs and experience.
So what should dentists look for in a vendor when choosing to outsource?
Be sure the company has a history of proven success within the dental industry. Be specific—not the medical industry as a whole, or professional services at large, but a company with a specific background of working with dentists that understands the unique aspects of dental practice management and the nuances of the dentist-patient relationship.
The right vendor should offer different levels of service and pricing. And be wary of companies that require payment in full up front before any work has been completed.
Look for vendors who offer a range of expertise. Whether a dentist is looking for e-communication solutions, social media marketing, SEO or website design, he/she will be best served by hiring one company capable of doing it all. This leads to a long-term business relationship as the vendor's successes enhance the growth of the practice.
Hiring one vendor to manage a variety of the online marketing tactics, for example, ensures the practice has a single point of contact rather than multiple partners to manage.
Plus, in this scenario, all online marketing efforts are coordinated and working cohesively, while increasing the vendor's accountability and investment in the practice's success—all of which ends up saving the dentist time and money in the long run.
Outsourcing is a smart and practical option for many dentists. You don't have to go it alone – taking the time
to properly research the vendors and asking the right questions will ensure a successful partnership for years to come. For more tips on hiring the right professionals, check out my recent article in Dental Products Report on How to Master the Power of Outsourcing.