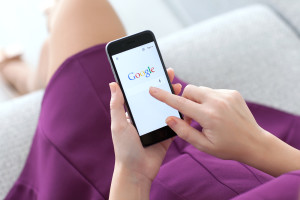 The online world braced for impact last week as Google changed its algorithm in a major way. With a big nod towards the rising influence of mobile, as of last Tuesday, websites that are mobile-friendly will now begin appearing higher in search rankings.
With growing numbers of users accessing the Internet from smartphones and tablets, the need for a mobile-friendly website is more important than ever. 62% of smartphone owners have used their device to look up health information within the past year, so if you haven't updated your dental practice website recently, you might begin to notice a drop in your website traffic.
What is a mobile website? It is a site that loads properly and is user-friendly across all devices: computers, smartphones and tablets. This is best accomplished through responsive web design, which also happens to be Google's preferred method.  If you've ever tried to access a website from your phone only to have the text appear too small to read or experience the frustration of the website taking forever to load, chances are good that you were trying to view a website that had not yet made the switch to mobile.
If you are not sure if your website is mobile-friendly, check out this handy tool from Google: https://www.google.com/webmasters/tools/mobile-friendly/. Simply type in the URL of your website and in seconds Google will tell you whether your site meets their mobile criteria.
What can you do if your website is not mobile-friendly? Contact your trusted web designer to find out what needs to be done in order to update the website according to Google's rules.
Mobile-geddon doesn't have to mean the end of the world for your dental practice website. Make sure your site is up to date with the current design technology in order to keep your practice information at your patients' fingertips!