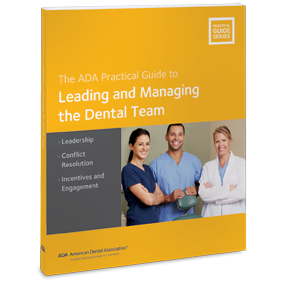 2015 was a big year around the Minoa offices. Between traveling across the country to lecture & work with my Pride Institute dentists, speaking at the AAE conference in Seattle in May and then in November at the ADA conference in DC, being named to Dental Products Report's annual list of the Top 25 Women in Dentistry – to say that the year flew by is an incredible understatement!
One opportunity I'm extremely grateful and humbled to have been a part of is the latest ADA publication, The ADA Practical Guide to Leading and Managing the Dental Team. As any dental practice owner already knows, dentists wear many hats within the practice, and perhaps the most significant role is that of leader and manager of the office.
I was asked to write a chapter focused on how a dentist's leadership skills can help avoid drama in the office, and the book touches on a wide range of topics all related to the ideas of how dental practice owners need to lead, motivate and engage, including:
Performance & accountability standards
Legal issues
Conflict resolution
Team appreciation
Coaching & mentoring in the office
If you haven't yet gotten your copy – available in both print and electronic versions – click here to learn more.
And to all of my dental industry colleagues, clients and friends, thank you for making this year an incredible one & I look forward to working with and learning from all of you in 2016!