Have you ever tried to access a website that is slow to load? Or have you ever been on your smartphone and pulled up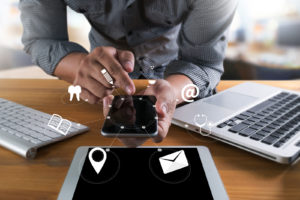 a web page that's hard to read because half the text is shifted off the screen? Chances are, you quickly clicked off that site. This is a prime example of a website that hasn't been updated recently.
You likely invested a decent sum of money when initially building your dental website. Don't let that money go to waste! A website needs to be regularly updated to ensure that it is reaching the right patients and functioning correctly. After all, this site is your digital representation online.
Here are 5 key components your website needs to have in 2018 in order for it to be as effective as it should be:
Responsive Design/Mobile First
The site needs to be designed to function across all devices, which is especially important as smartphones recently surpassed traditional desktop computers in terms of users accessing the Internet.
Branding
If you're still using a tooth in your logo, it's definitely time for a branding update. And even if you've worked with a graphic designer on a more modern and professional strategy, double check that the branding, logo, tagline and practice name are consistent across all online profiles: the website, social media and third party directories.
Contact Information
Make it as simple as possible for patients to get in touch with the office. Keep the phone number and address in the header and footer on every page. Having a click-to-call or online appointing features go even further in helping patients contact the office.
Links to Social Media and Third Party Sites
Offering links to sites like Facebook, Instagram, Yelp and Healthgrades helps establish social proof for prospective patients. While having positive testimonials on your website is a good idea, patients also give credibility to reviews left on third party sites like Google, Yelp and Healthgrades. And social media sites help to personalize the dental office and keep patients engaged with the practice in between appointments.
Visual Appeal
There's no doubt that patients are still fearful of the dentist, so having a visually appealing website help to give a more friendly vibe. Pictures of the dental team and videos of the dentist addressing common patient concerns, for example, can go a long way in helping to build trust in the practice. And designing the website with aesthetics in mind – having enough white space and even adding a textured background to the theme – can help provide a modern, clean and welcoming impression to all patients.