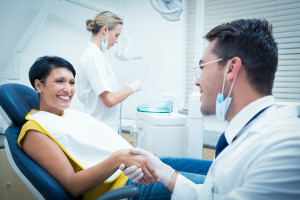 At last week's American Dental Association Annual Session in New Orleans, Sesame Communications and Healthgrades announced their partnership to provide the dental industry with a premier solution in online marketing and reputation management. Dental practices that use Dental Sesame or Ortho Sesame will now have access to a Healthgrades Enhanced Profile for a low monthly fee.
This service is currently available exclusively for Sesame clients and features include preferred profile placement, increased visibility as well as the ability for patients to submit appointment requests online. Enhanced profiles also provide doctors with the ability to increase the quantity, quality and verifiability of patient reviews; Sesame's post-appointment survey responses can be pushed directly to Healthgrades.com via this new collaboration between the two companies.
But the real news is the access that participating dentists will have to such a large and qualified pool of potential patients. Healthgrades.com has over 250 million visitors per year —and over 20 million of those visitors are looking for an oral health professional. These patients are on the Healthgrades site because they are looking for, and are ready to make an appointment with, a local dentist.
Why not put your practice's information — and your patients' positive ratings — at their fingertips? Get more
information at Sesame's website or in this Dental Products Report video.