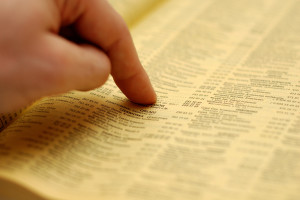 Determining whether advertising in the phone book is a smart way to reach new patients is not as simple as yes or no.  Several factors should go into whether or not you continue to advertise. Here are 4 important ideas to consider:
Consumers are becoming increasingly reliant on search engines (i.e., Google) and online review sites (i.e., Yelp) when looking for information about healthcare providers. Younger patients (those in their 20s, 30, and 40s) are more likely to find a dentist online. Senior citizens, on the other hand, may still prefer to use the phone book. 
Generally speaking, residents in more urban areas are younger, more technologically savvy and are less likely to have a word of mouth referral to rely on, making them more likely to search for a dentist online. Those in more rural locations are more likely to turn word of mouth or to the yellow pages. However, in today's world, regardless of where you live, the internet has absolutely become a ubiquitous resource for search and research.
If your target customers are young families, the dollars allocated to yellow pages advertising should not exceed 15% of your marketing budget. If your practice focuses more on senior citizens, it might still be appropriate to spend 25% or more of your total marketing budget on yellow pages. But don't forget that Baby Boomers are spending an increasing amount of time online, and that women over the age of 60 are still the fastest growing demographic on Facebook.
Return on Investment: How much in production or many new patients do you have to receive to make yellow pages a cost-effective marketing tool? Have you achieved this threshold this year? Last year? How are you measuring success?
A recent study by The Wealthy Dentist found that only 25% of respondents still report getting new patients through phone book advertising. Do you advertise in the phone book? Why or why not? Please share your opinions below.