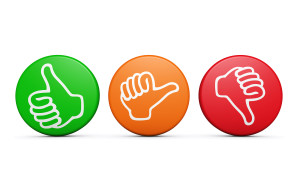 Establishing a presence online for your practice is growing more important every day. It's a smart and strategic business practice to ask your current patients to give brief testimonials on such sites as Yelp!, Google + Local, Citysearch, Dr. Oogle, and others. This allows potential patients to learn about you before they ever pick up the phone call to make that first appointment.
However, many dentists are hesitant to promote these sites out of fear of receiving a negative review, and the potential damage that could cause to their practice. Be not afraid – in the event you do happen to have an issue arise online, there are several ways of handling the situation which can actually be viewed in a positive light by other consumers who see the interaction.
We've all seen it before. You are on Yelp and for every 10 positive comments, there is one negative experience from a disgruntled customer. Unfortunately, this is going to happen to every one at some point. Now, you may not have any irrational patients, but some dentists do. Instead of being frightened by this scenario, view it as an opportunity for transparency between the business and the customer to work through the issue together. Of course you would never want a patient to leave your office feeling anything less than 100% satisfied.
If an unhappy patient ever leaves a less than positive review about your practice, here's a great system for resolving the issue:
1. Respond in a timely manner. There should be at least one team member in your practice assigned to monitoring the online profiles. Ideally they will notice the less than positive review, and alert the doctor and other necessary team members to the issue in order to investigate what really went wrong.
2. Acknowledge the review publicly. This is where many dentists are most intimidated. Who wants to ever admit they are wrong? The important thing to remember here is that you do not necessarily have to admit any wrongdoing. The truth is, you may not have done anything wrong – perhaps the reviewer was just having a bad day and was feeling overly sensitive. You only need to acknowledge the fact that someone has had a less than perfect experience.
3. Respond Positively. You would never want to discredit the unhappy reviewer – but you can credit yourself! Replying with something as simple as "The team at Minoa Dentistry strives to exceed each patient's expectations. We are sorry to hear that you had a less than perfect experience. Please call our office at (123) 456-7890 to speak directly with our office manager. We hope to have the opportunity to resolve your issue." This illustrates your commitment to quality customer service, and provides the opportunity to address the problem with the patient. Ultimately, you may be able to avoid losing that patient all together.
Of course, the unhappy reviewer may be that one totally irrational patient. If you respond in a rational manner, and they continue with the irrational comments, then it is probably best to let that one go. However, from the point of view of a potential patient, it is actually a positive sign to see a business that cares about their customers enough to address the issue and to take the time to try and resolve the issue.
One key component to online reviews which I cannot stress enough – Transparency is absolutely paramount when it comes to online reviews. If you do receive a negative review, do not immediately ask every patient that comes in for the next week to leave positive reviews. It will be totally obvious what is going on, and it will reflect very badly upon your practice.
The best way to counteract a bad review is to build up your positive prophylactic reviews. It is better to be proactive and arm yourself ahead of time. Set a goal for the practice to generate 2 positive reviews a month for a year. This will build a steady stream of positive, and authentic, comments which will help to balance anything less than perfect.
Has your practice experienced any negative online reviews? How were you able to resolve the problem? Please share your expert advice below!