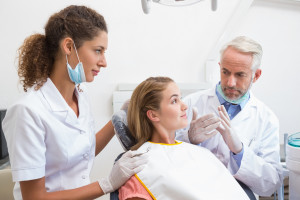 While consulting with dentists across the country, one obstacle to practice growth I hear consistently is how to overcome patients' objections to treatment. Either the patient's insurance doesn't cover the procedure, or the patient doesn't have insurance at all and doesn't want to pay out of pocket…regardless of the patients' reasons, it can be frustrating as a health care provider to not be able to administer the top-notch care you know would be in your patients' best interests because of financial barriers.
My colleague Dr. Dan Marut, DMD encountered the same issues while operating his dental practice. He founded Quality Dental Plan to help fellow doctors overcome these financial obstacles in their own practices. Check out our article The Insurance Free Dental Practice: Is it Fantasy or Reality to learn more about Quality Dental Plan, and how it might help reduce the insurance and financial hassles of the practice, leaving you the freedom to focus on what you do best – providing quality care for your patients.
Have you heard of Quality Dental Plan? Do you believe an insurance-free dental practice would benefit you? Please share your comments below.