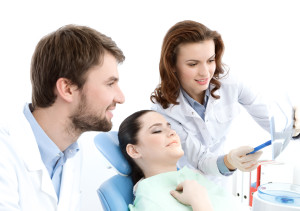 Marketing – it's a very broad term. What many dentists don't realize is that marketing encompasses the entire patient experience. Promotional efforts to reach new patents are essential for practice growth, but it's how you (and your team) treat your patients once they are in your chair is what keeps them coming back year after year.
Dr. Dan Marut, DMD, and founder of Quality Dental Plan and MemberDent, suggests dentists shift their sales approach from the Push Model to the more modern Pull Model in order to meet the needs of dental patients today.
Push Model
The Push Model is a more assertive sales approach with the thought process being the more you promote your practice and your services, the more patients will respond. Traditional advertising such as TV and print ads are examples of the Push Model.
Pull Model
Alternatively, the Pull Model is a more consultative approach, based on building trust with patients to achieve long-term relationships. Dentists take the time to talk with patients, educating them by having conversations not only about the recommended treatment, but the reasons behind the recommendations and how the treatment will improve the patient's function or aesthetics.
Patients want not only a dentist with strong clinical skills, but also one that understands them. The Pull Model creates a demand for your services over time, increasing patient loyalty and case acceptance within the practice.
Using a mix of both Push and Pull marketing tactics is a strategic way to not only get new patients in the door but to also keep them in the practice long-term. Patient retention is essential to any dental practice. And sometimes a slight shift in a dentist's approach to patient communication can yield practice growth for years to come.