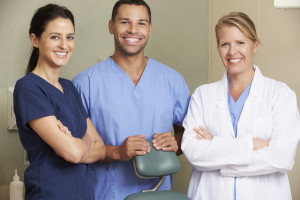 Nothing keeps the dental practice moving forward like having staff meetings or morning huddles. Gathering the team together can open the lines of communication, and keep the staff abreast of new marketing tactics. When I'm consulting with my dentist clients, I remind them of the importance of staff meetings, especially when it comes to the marketing plan.
Here are 5 ways staff meetings can have a meaningful impact on your practice marketing:
Better Return on Your Marketing Investment: Your marketing budget will be executed best when everyone is working together. For instance, the front desk needs to be aware of all current marketing campaigns since they should be asking the question "How did you hear about us?" or "Whom may we thank for referring you to the practice?" every time they speak with a new/potential patient. A staff meeting is the perfect time to keep the team informed.
Increased Participation: In addition to keeping your staff informed, a staff meeting can be a great way to get them involved and invested in the marketing strategy. Show your entire staff what kind of marketing you are doing and when it will be hitting the marketplace. Tell them how much it costs and what kind of return you expect. And above all, remember to reward your team members for helping to make the campaign a success.
Increased Word of Mouth: The entire team needs to be actively participating in the internal marketing process and proactively asking for patient referrals (and online reviews). This doesn't come naturally to most people, so a staff meeting based around verbal skills training for the team is a must!
Increased Input: Good marketing sometimes requires out-of-the-box thinking and a great way to generate new ideas is to solicit the input of your staff. Use your next staff meeting to host a brainstorm session to come up with ideas for a new branding strategy or to gather topics for upcoming blog posts or social media updates.
Create a Sense of Ownership: As a dentist, between managing the practice and treating your patients, you already have enough on your plate — so delegation can pay off in spades. Designating a staff member to take the reigns on a specific aspect of the marketing – managing the social media calendar, writing blogs or tracking the response from a particular campaign, for instance – can help increase their engagement and give them a greater sense of personal responsibility.
As you can see, staff meetings can play an integral part of the practice marketing strategy. When the staff feels an increased sense of ownership, you'll see that your return on your marketing investment will improve dramatically. The team will be more satisfied, the dentist will be happier and the practice will be operating more efficiently, making staff meetings a true, all-around winning solution!