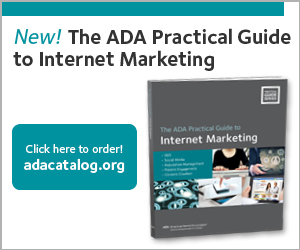 The American Dental Association has just announced the publication of their new book, The ADA Practical Guide to Internet Marketing. It's a comprehensive resource filled with valuable information on all things related to online marketing. I was fortunate enough to have the opportunity to author two chapters in the book, and am excited to share a few excerpts here with you.
I was first asked to share tips on how to build a solid marketing foundation for the dental practice.
If you've tried marketing before and it didn't work, it is well worth it to give it another shot.
 The marketing industry as a whole has gotten much more scientific in recent years. Dentists
 no longer have to cross their fingers and hope for the best. There is an abundance of tracking mechanisms designed to provide real-time data, so that dentists can make educated marketing decisions. If something isn't effective, you'll know very quickly and can change gears, saving you time and money. Plus, there are countless numbers of tools available to dentists now that didn't exist just a few short years ago. If you've been hesitant about marketing your practice, now is the time to jump back in! 
I also was asked to write on the topic of SEO, or search engine optimization. SEO is one of the most important online strategies yet many dentists are not completely familiar with the concept.
The one universal truth of SEO is that content is king; to improve your rankings, both website visitors and search engines must perceive that you are a subject matter expert based on the depth, specificity and freshness of your website's content. In the words of Rand Fishkin, founder of Moz.com and a preeminent SEO expert: "Best way to sell something: don't sell anything. Earn the awareness, respect and trust of those who might buy."
With 10 total chapters, the ADA turned to several industry leaders for insights into everything from content creation, social media, blogging and even covering the legal considerations for digital marketing. The book is sure to become a trusted resource for dentists and their teams. Click on the image above to learn more about it and find out how to order a copy for your practice!