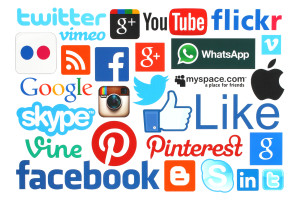 Social media is a hot buzzword in dental marketing. With so many sites out there, many of my clients say they feel overwhelmed with the prospect of using social media as a marketing tool for their dental practices. Once you gain some familiarity, social media becomes a very engaging way of reaching current and prospective patients. Here are 6 of the most popular social media sites you should get to know.
1. Facebook
With over 955 million users, Facebook remains to be the most popular social media site. Many dentists are familiar with Facebook as they use it in their personal lives. However, Facebook can be a great tool for your business as well. Creating a Facebook Business Page for your practice enables you to directly connect with your patients. Upload appropriate images for your cover and profile photos – a professional photo of the doctor, an interior photo of the office, or your logo are all great options – in order to customize your page. Build your audience by asking your patients to Like your page. Uploading photos and video, providing fresh, relevant content on a consistent basis, can help keep your practice on the tops of your patients' minds.
2. Google+
Launched in the Fall of 2011, Google+ has 250 million registered users and is still growing. Similar to Facebook, you can create a business page on Google+, separate from your personal profile. What makes Google+ a priority is, of course, its affiliation with Google. Building your practice's Google+ business page offers you many opportunities to feature videos, share photos and images and create direct inbound links, all of which are incredible drivers of search engine optimization. It's just one more way to help patients easily find you and connect with your practice online.
Google+ Local (formerly known as Google Places) is your practice's profile page within Google Maps. This profile provides the same opportunities for inbound links, images and video as Google+, and it also includes patient reviews, which can have a huge impact on your word-of-mouth referrals. Google creates a Google+ Local page for every business in the country, but it's up to you to claim that profile and make sure it's accurate. Being familiar with your Google+ Local profile also enables you to monitor what your patients are saying about your practice and to highlight these comments (at least the positive ones) through other social media platforms.
4. YouTube
More than sixty hours of video are uploaded to YouTube every minute, and over four billion videos are viewed each day! Dentists around the globe are realizing that offering short videos on their websites and YouTube channels can be an effective part of an overall search engine optimization strategy. The videos on the practice website play into Google's algorithmic preference for fresh, relevant content so your practice is listed higher on Google searches. And the videos posted directly on YouTube drive YouTube search traffic to the practice website as well.
5. Twitter
What's unique about Twitter is that every single word you've ever tweeted is public and searchable unless it was specifically marked private. That means anyone who happens to be searching for any of the keywords you're tweeting about will find your tweets. This is an incredible way to build a loyal base of followers, regardless of whether they actually know you or not. And because about half of Americans don't have a dentist, if your Twitter followers are in your local area, they certainly have the potential to become your patients when they're ready.
6. Pinterest
Boasting more than 20 million users since it's start in March 2010, Pinterest is not only social media's fastest growing site, but it's also a known hub for the dental practice's ultimate target demographic: moms. Moms love "pinning" stories, photos and articles to their Pinterest boards. For dentists who have a true general or family practice, and especially for pediatric dentists and orthodontists, Pinterest is the latest addition to the practice's social media arsenal.
These 6 sites are just some of the opportunities available for you to get started in social media. Find out which ones work best for your practice, and get started!
Is
your dental practice involved in social media? If yes, what sites have you found work well for you? If no, what is holding you back from engaging? Please share your thoughts below.